2018 Trimble County Apple Festival
Saturday - September 8th
10 am - 6 pm
Sunday - September 9th
Noon - 5 pm
Bedford, KY 40006
FREE ADMISSION!
Music, Crafts, Pageants, Food, Contests, & Kids Activities !!!
The mission of the Trimble Co. Apple Festival is to raise funds for local schools, civic and community groups or activities which support and promote the betterment of our children, citizens and/or community.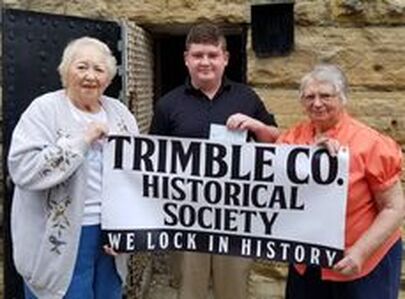 The Trimble County Historical Society was selected by the Trimble County Apple Festival Board of Directors to receive a grant donation to further its vision of preserving our county's heritage. Trevor Goode, Treasurer and Sue Fisher, Vice-President presented funds to Hilda Parrish and Bette Hackney at the old county jail, which they hope to restore to its "glory."
Other 2018 grant recipients include: 4-H Camp Scholarship, No Child Hungry, ILEAD Academy and the Henry/Trimble County Humane Society. In addition, the following groups received donations in 2017 for their help at the annual Trimble County Apple Festival: Boy Scout Troop 213, New Life Assembly, TCHS Boys Basketball, TCHS Cheerleaders, The Well Church, Trimble County Archery, Trimble County Girl Scouts and Trimble Klunkers.
If groups would like to earn money for their activities by working during the Apple Festival, please email us at information@trimbleapplefest.org or call/text Lisa Moore at 502-552-1092. Persons wanting to volunteer to assist with the festival, please feel free to attend meetings on the 3rd Tuesday at 7pm in the Judge Executive's office.