THANK YOU 2017 DONORS !!!
LG&E
Baptist Health
Bluegrass Drug Center
Bedford Loan & Deposit Bank
Mark Smith State Farm
Bedford Christian Church Dr. James O'Connor
Bray Orchards & Roadside Market Phoenix Animal Care P.S.C.
Carrollton Federal Bank Pyles Body and Paint, LLC
Country Collectibles/The Loft Restaurant Rand Insurance and Real Estate
King's Daughters' Health Ransdell Funeral Home
Kinser & Kinser, Inc. Shelby Energy Cooperative
Liter's Inc. Subway
Madison Precision The Farmers Bank of Milton
Brown's Farm Implement, LLC
George & Anna Hereford
www.trimblecountystorage.com
PMC Organometallix
Hannah West Photography
Trimble County Public Library
Signature HealthCARE of Trimble County
Heinz Farm
Mulberry Orchard
Old Bell Farm
Trimble County Apple Festival is a
501(c)3 Non-Profit organization!
Donations are tax deductible to the
full extent of the law.


---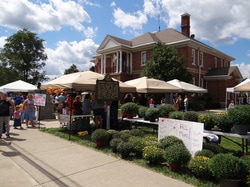 TRIMBLE COUNTY APPLE FESTIVAL, INC.Po Box 302Bedford, KY 40006
Save the dates of September 8th and 9th for the 28th annual Trimble County Apple Festival!!!
Have you heard the GREAT news????? Trimble County Apple Festival is now classified as a 501(c)3 Non-Profit organization!!!
What that means for you is your donations are tax deductible to the full extent of the law. The Trimble County Apple Festival just isn't a FUN filled week-end, it's a way for our community to raise much needed funds for our local schools, civic and community groups or activities which support and promote the betterment of our children, citizens and/or community.
Being a non-profit organization, we depend on the generosity of friends, neighbors, and businesses to ensure the success and continuation of this event. As a sponsor, your name will be highlighted on our sponsor board which is displayed throughout the festival, on our website
www.trimbleapplefest.org
and will appear on the t-shirts worn by committee members and sold to the general public.
In addition, donations received by
July 1, 2018
may be eligible for
FREE
"Sponsored by" advertisements through local media outlets. Checks need to be made payable to
Trimble County Apple Festival.
Please complete the below form and indicate how you would like your name to appear in print/advertising and mail with your check to the above address. Any denomination is greatly appreciated!
This year's event will mark the beginning of another milestone for the Trimble County Apple Festival. While we continue with old traditions including quality arts and crafts, quilt displays, entertainment, pageants of all ages, an apple pie baking contest and many food booths, we will also be including some (hopefully) new traditions. We strive to make this a family fun event and provide something for everyone.
You don't want to miss out!!!!
Many of the vendors who return year after year say this is one of the highest quality festivals they attend. As a sponsor, you can take pride in this recognition.
If you have any questions, please feel free to contact me. Thanking you in advance for your support and participation.
Sincerely,
Lisa Hatfield
President/Sponsorship Chair
(502)552-4362 cell
lisahatfield@trimbleapplefest.org
******************************************************************************************************Please return with donationName to appear in print _____________________________________________________________________________
Amount of donation $_________________ Check number ____________________________________
Contact Name ________________________________________ Phone _____________________________________
Email _______________________________________________
---